Trailblazing American record producer and club DJ hailed as the Godfather of House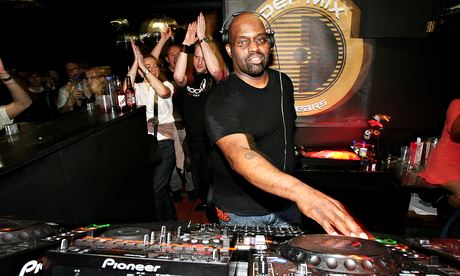 Washington (AFP) – Frankie Knuckles, a pioneer of house music who also mixed records for the likes of Michael Jackson and Whitney Houston, has died at the age of 59, news reports said early Tuesday.
The death of a man dubbed the "godfather" of Chicago house music was confirmed by his longtime business partner, Frederick Dunson, the Chicago Tribune reported. Dunson said Knuckles died unexpectedly at home.
The cause of death for Knuckles, who over the weekend deejayed at the Ministry of Sounds' club in London, was not immediately known. Dunson said more details on the death would be released later on Tuesday.
Besides developing the sound and culture of house music, Knuckles mixed records for performers including Houston, Jackson and Depeche Mode, the Tribune said.
After learning to be a club DJ in New York, Knuckles moved to Chicago in the late 1970s and forged fame as one of the city's most influential dance music forces.
He came to the city just as disco was dying out, a trend underscored when a local deejay Steve Dahl blew up hundreds of disco albums.
"I witnessed that caper that Steve Dahl pulled at Disco Demolition Night and it didn't mean a thing to me or my crowd," Knuckles told the Tribune.
"But it scared the record companies, so they stopped signing disco artists and making disco records. So we created our own thing in Chicago to fill the gap."
Knuckles would extend mixes of soul and R&B records and turn them into dance tracks, introduce new singles being produced by fledgling house artists and incorporate drum machines to emphasize the beat, the Tribune said.
Also, he would create theater-of-the-mind scenarios with creative sound and lighting.
"Sometimes I'd shut down all the lights and set up a record where it would sound like a speeding train was about to crash into the club. People would lose their minds," the Tribune said.
By the late '80s, Knuckles and many of his peers were stars in Europe's emerging rave scene.
Knuckles joked that he could walk down the street in Chicago and not be recognized, yet be mobbed by upon arriving at European airports for DJ gigs.
"I wasn't frustrated by that, not at all," he said. "I'm not the kind of person that lives for fame and glory. If I've got a nice, clean home and can put a meal on my table and can entertain my friends, I'm fine. I don't need to see my face plastered everywhere," the Tribune quoted him as saying.
Fellow DJ David Morales expressed his condolences on Twitter, saying, "I am devastated to write that my dear friend Frankie Knuckles has passed away today. Can't write anymore than this at the moment. I'm sorry."
http://www.theguardian.com/music/2014/apr/01/frankie-knuckles
http://news.yahoo.com/godfather-house-music-frankie-knuckles-dead-59-113717005.html